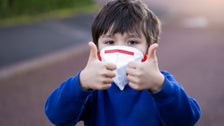 A handful of times in the past, I was going to an animal farm with my five-12 months-outdated and my toddler. We have not been out much since March, so these early outings feel new and a bit nerve-wracking.
Right before we remaining, I reminded my elder son that he would have to have to keep his mask on the entire time, and that we'd test and keep a bit of pleasant length from any one else who was there. We walked around, happily checking out the goats and chickens, deep in a dialogue about what donkeys consume, when he turned and requested me, "Mama, really do not grownups have to put on masks, way too?"
To our remaining and proper ended up a number of small groups of grownups, some with no masks at all, some others with theirs dangling from their necks.
Not wanting to get into a
…
Read More